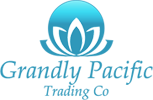 GRANDLY PACIFIC TRADING LIMITED
Grandly Pacific Development Ltd, the main wholly owned operating subsidiary of Grandly Pacific Trading Ltd, is recognized as a well-scaled recycler in Greater China.

Grandly Pacific Trading Company was founded in 2000 by Mr. Haidy Ng and Ms. Anita Tung.

Mr. Haidy Ng has extensive experience in recycling the plastic waste and trading various plastics worldwide since he engaged his family business in 1982. During the 1980s, Mr. Haidy Ng has operated the polybags factories with more than a thousand labor in China and exported to the Western Countries. Meanwhile, Mr. Haidy Ng decided to build his enterprise and operated with Ms. Anita Tung to establish Grandly Pacific Trading Company and build good network in China.

With more than 30 years of professional experience in the recycling industry, we handle over 500 containers of plastic scarp from different countries monthly.